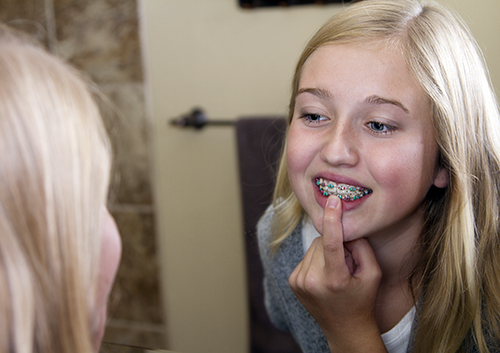 However you may feel about having to wear braces, choosing the color of your rubber bands is sure to bring a smile to your face. Whether you want to express your creativity, coordinate your braces with your outfits, or show some serious school spirit, decorating your mouth with colorful bands takes some of the stress and self-consciousness out of wearing braces. So what do your rubber band colors say about you? Look no further than our rubber band horoscope.
Red. You're intense and forward thinking, and that you won't back down no matter how big the challenge. Red is also the color of the heart, so red rubber bands indicate that you're a caring, loving person.
Blue. Blue means you're chill – as cool as a cucumber. You're one cool customer, as the saying goes. You're relaxed and calm, even when your mom says you can't chew any gum or eat popcorn because of your braces.
Green. Look at a traffic light and green means go, right? So you're the type of person who's always on the move. Go, go, go! It also means you're generous and kind. Green is the color of nature and spring, so it says you love Mother Earth. Perhaps you even recycle. Green is the color of good luck.
Orange. You're daring and wild, flamboyant and fun. Orange may indicate you're an artist or a drama student. It says you have a big personality and that you don't care what other people think about you. However, orange is also the color of balance and energy. And being flamboyant and fun takes a lot of energy!
Purple. You're the creative type, for sure. You beat to a different drummer and think outside the box. It says you're mysterious. Purple is the color of royalty, and when you wear your purple rubber bands you are royally cool.
Color Combinations
What if you can't choose just one color? Well, you can decorate your teeth with alternating colors. You can choose the colors of your favorite sports team or holiday colors like red and green. If you're still stumped as to what colors to choose, ask Drs. Erickson and Aamodt or a member of our team. We can let you in on all the trends our other patents are sporting at our White Bear Lake, Eagan, Apple Valley, or Pine City, MN office!